Wayne County is hoping to become a hemp-production hub in the Midwest, but first they need to educate their community. That includes farmers and lawmakers who may not be aware of this new cash crop that will help both rural economies thrive.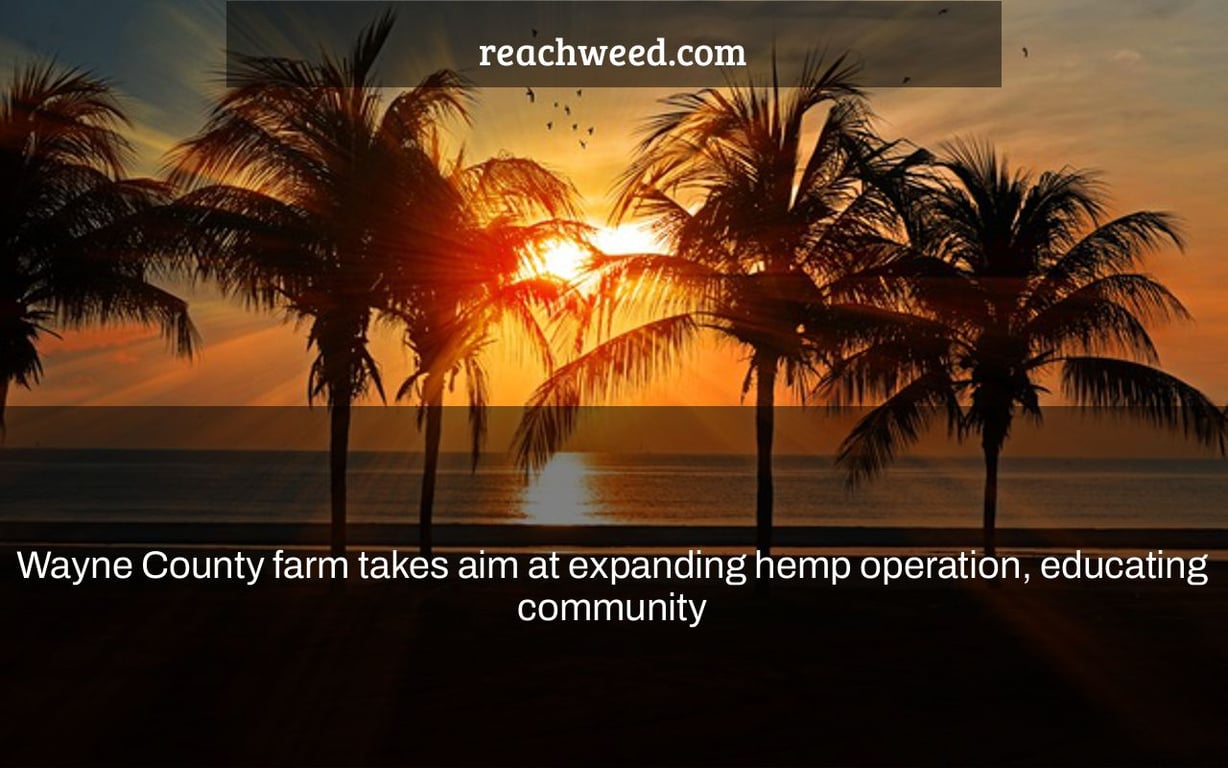 In 2019, when brothers Shawn and Josh Cutter suggested cultivating hemp on their traditional family farm, their sister and mother were skeptical.
Their 500-acre farm had long produced alfalfa, maize, and soybeans, so introducing a new plant with no understanding of it was a risk, but the family was soon persuaded.
Ohio Gov. Mike DeWine had just signed a measure legalizing hemp with low THC (less than 0.3 percent) – the psychoactive ingredient in cannabis — creating a new market in the state.
A retrospective: Gov. Mike DeWine of Ohio signs a law legalizing CBD and hemp. So, what's next?
After hemp became legal, the brothers and their sister built the requisite greenhouse and facilities to produce, dry, and mill hemp flowers, establishing Cedar Valley Growers as Wayne County's first hemp farm.
"We were apprehensive about the stigma associated with hemp farming, but the more we studied about it, the more we saw the advantages and differences," said Shawn Cutter, chairman of Cedar Valley Growers. "Now we want to help de-stigmatize hemp by educating others in our neighborhood about it."
Two years later, the family is reaping the benefits of their decision, having just joined the Wooster Area Chamber of Commerce. They also want to extend their activities along Back Orrville Road, according to Cutter.
This expansion would allow the farm to create additional cannabidiol, or CBD, goods like as candies, lotions, and electronic cigarette cartridges, which are available for purchase on the Cedar Valley Growers' website or at local Wooster businesses.
What's the difference between hemp and marijuana?
While recreational marijuana is prohibited in Ohio, medicinal marijuana and hemp are not.
According to the US Department of Health and Human Services, the key distinction between medicinal marijuana and hemp is the amount of the psychoactive component THC, or tetrahydrocannabinol. Because of the "high" it may generate, this substance is heavily controlled.
According to the Ohio Medical Marijuana Control Program, hemp products may only include 0.3 percent THC, but medical marijuana can have up to 35 percent THC.
CBD, or cannabidiol, is the second most abundant component in hemp and medicinal marijuana. According to a Harvard Health paper released in September, CBD does not induce a "high" by itself, unlike THC.
In 2017, a World Health Organization study declared, "CBD demonstrates no effects suggestive of any misuse or dependency potential in humans." "To far, there has been no indication of public health issues linked to the use of pure CBD."
THC levels in hemp products, such as those supplied by Cedar Valley Growers, are minimal, and there are no possession limitations for CBD in Ohio.
For Cedar Valley Growers, 2020 was a year of challenges.
Cedar Valley Growers' first year cultivating hemp in a mostly outdoor business was full with challenges, despite their early entrance into the market. In a state brimming with agricultural know-how, there was a dearth of knowledge on cannabis growing.
Much of the family's expertise came from Josh Cutter's studies in Oregon and Colorado, where hemp has been legal since 2010 and 2014, respectively.
"That first year, there was a lot of trial and error and informed guesswork," Cutter said.
A new measure is helping Ohio schools address staffing shortages by providing substitute instructors.
The construction of a facility that could dry almost 10 acres of hemp plants without collapsing in on itself was one of the initial hurdles.
"We engaged a person to build a drying facility," Cutter said, "but it turned out he had no idea what he was doing."
Cutter had to rethink the drying procedure after being left with a 13,000 square-foot warehouse full with heaters. He made rows of poles from a discarded oil pipe that he secured to the ceiling and hung the plants to dry.
"We weren't sure whether the structure would hold since so many plants is hefty," he said, "but the plants shed a lot of moisture in that first day."
'That stigma can be broken,' says one Ohio veteran, as a law attempts to expand the program.
While the structure was sturdy, the equipment he bought to pick blossoms from the plant was too tiny, so he made do.
To remove the blooms, they now utilize a process using brushes from street cleaners, he said. Before being packed, the food is processed in a dairy feed mill.
They transport the CBD in a container out of state to be extracted as a white powder called isolate.
A first harvest that was unexpected
Kristin Anthony, Chief Executive Officer of Cedar Valley Growers, recalled how hectic the first harvest in 2020 was.
They had planted 10 acres to grow for three summer months, but the farm-grade harvester picked out too many weeds when it was time to harvest.
"With the weeds, we didn't take the right measures," Anthony Cutter, Shawn and Josh's sister, said. "As a result, we had to do everything by hand."
She recruited 20 to 30 temporary laborers to their eight to nine-person crew to help with the harvest. Anthony added that people from all around the area, including relatives and friends, volunteered to assist as seasonal employees.
She described the outpouring of support for the harvest as "amazing."
According to Shawn Cutter, each worker cut and stabbed at the plants with machetes and even one or two samurai swords to harvest the approximately 10 acres of hemp.
Cutter recalled that it was exhausting job.
"I hope we don't have to do it again," he continued, "but we're taking the necessary steps now."
'We want to make people aware that these products are both safe and useful.'
Despite a challenging first year, the family settled into a routine.
Hemp is grown both outdoors and inside, depending on the season.
Josh Cutter noted that although their first greenhouse harvest yielded just eight pounds of usable hemp, they've had five more since then, each yielding more than 70 pounds.
They test their harvest on a regular basis to verify compliance with Ohio THC standards. They must burn it if it is "too hot" or contains too much THC, according to Cutter.
A look back: The state of Ohio's marijuana legalization bill receives a boost as the attorney general approves the bill's text.
"We're starting to figure out what causes THC to vary," he added. "We think it has something to do with the quantity of fertilizer we use, the sort of fertilizer we use, and how much water we give them."
Water stress may cause the plant to generate more THC as a result of too much or too little water. Shawn Cutter expressed his thoughts.
Hemp plants are also more sensitive to soil nutrition, according to Cutter, so they pay more attention to the soil used to cultivate hemp than they do for other crops.
They cultivate hemp from seed to roughly a foot tall in a warehouse facility to achieve optimal efficiency before putting the plants in the greenhouse to complete mature.
Big firms become larger as licenses change hands in Ohio medicinal marijuana.
"We scheduled it such that once one crop is harvested, we can place the next crop into the greenhouse for three months before harvesting," Josh Cutter said.
Anthony's main objective is to expand their West Salem operations to include a CBD extraction facility and a packing and distribution warehouse, now that their agricultural techniques are basically figured out.
However, she aims to increase their product range and have a stronger presence in the community in the interim.
"We want to make people aware that these things are both safe and useful," Anthony said.