Austin, Texas is the latest city to decriminalize cannabis possession. Vancouver and Amsterdam are at the forefront of global efforts to legalize magic mushrooms for personal use. And finally a woman's story about how medical marijuana changed her life.
"The Vancouver Drug Bust" is a news story that discusses the drug busts in Vancouver, British Columbia. The article talks about how there has been a decrease in crime rates since the city decriminalized cannabis.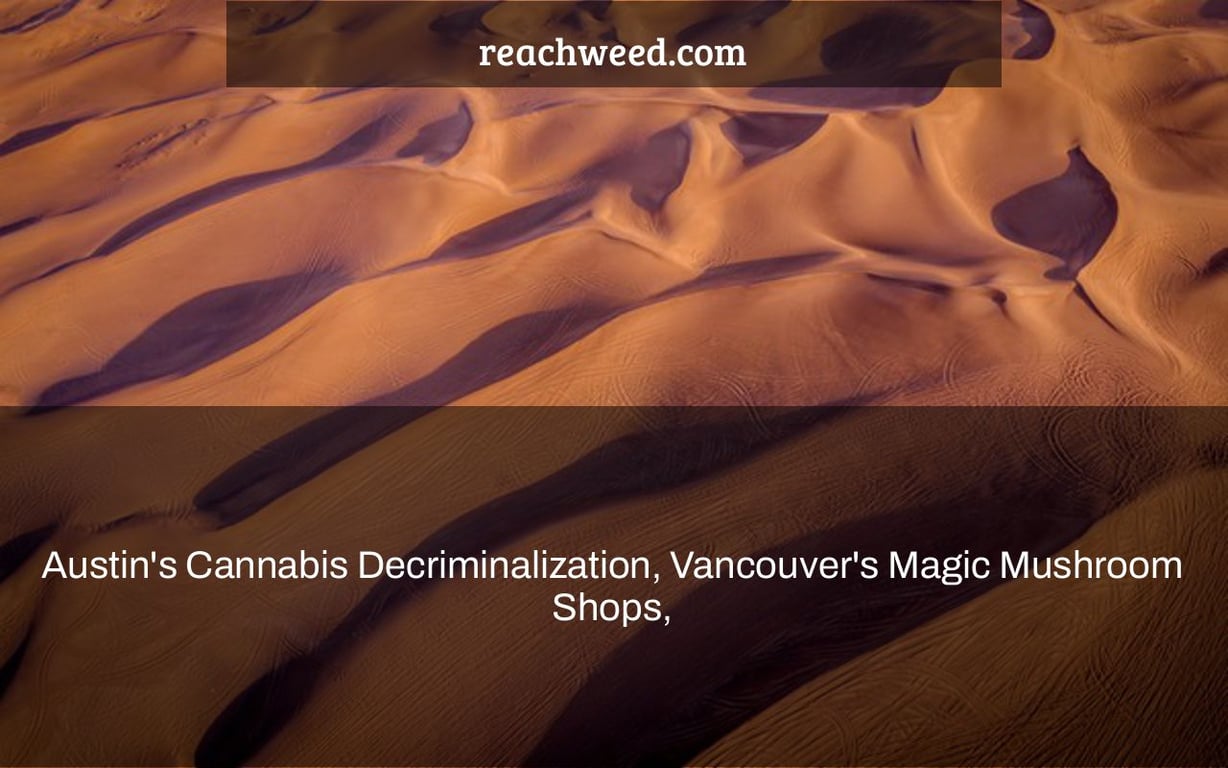 Austin decriminalized marijuana possession, Vancouver now has some not-so-legal magic mushroom businesses, and a British lady spoke out about her life-changing medicinal marijuana adventure.
Let's take a look at this week's cannabis news.
---
Cannabis decriminalization is approved by Austin voters.
Proposition A, a ballot proposition decriminalizing cannabis possession and prohibiting no-knock warrants, was adopted by voters in Austin, Texas. The proposition received strong approval from 85 percent of the city's voters.
Austin police will be prohibited from issuing tickets or arresting anyone for low-level cannabis possession if the bill becomes law. The measure does, however, include one exemption. If the arrest or citation is part of a broader, more severe investigation, police may nonetheless take an individual's cannabis.
It's worth noting that Proposition A makes no substantial changes to the Austin Police Department's current policy. The municipal council approved a resolution in 2020 to abolish minor cannabis arrests. The newly enacted bill, on the other hand, makes the 2020 resolution legal.
Proposition A also signals the end of the city's no-knock warrants. Before executing a search warrant, Austin police will have to wait at least 15 seconds and make their presence known. The no-knock warrant prohibition was strongly opposed by Austin's police union.
The Psilocybin 'Gray Market' in Vancouver is rapidly expanding.
For all intents and purposes, magic mushrooms are banned in Canada. Despite this, Vancouver has become home to a burgeoning magic mushroom market.
"There isn't a lot of opposition to individuals doing this type of thing." "If you're like me and ready to take a chance and sort of push it ahead, you'll find the pushback isn't that strong," Dana Larsen, proprietor of four illegal psilocybin stores in Vancouver, said.
Larsen and others working in the mushroom gray market in Vancouver are part of a growing campaign to get psychedelics legalized in Canada. City authorities, on the other hand, have other ideas. Larsen and others have been warned by the city to "stop unlawful acts," according to the Vancouver Sun.
What are your thoughts on the psilocybin gray market in Vancouver? Do you believe Larsen's and other store owners' efforts will persuade Canada to reconsider its position? Please tell us in the comments!
A woman describes how medical marijuana assisted her in reclaiming her life.
Medical marijuana is helping individuals better their daily lives, according to a recent piece published in The Guardian.
Andrea Wright, a 39-year-old woman from Bristol, England, was diagnosed with psoriatic arthritis and fibromyalgia, according to the report. Wright explains how her long-term illnesses caused her to be in continual discomfort all throughout her body. Wright's discomfort became so severe that she had to leave her work at the National Grid when she was 33 years old.
"I had to quit working because the agony was becoming unbearable." It's been quite upsetting; I loved my work. "I tried so many various therapy and was able to control my arthritis, but there isn't anything, no miraculous medicine, for fibromyalgia," Wright told The Guardian.
Wright said she was using up to 40 tablets per day at one time before being persuaded to take part in a medical cannabis research hosted by a private London clinic.
"My sleep improved dramatically right immediately." I hadn't had a good night's sleep since 2012. I no longer use sleeping medications. "My pain levels have also decreased significantly," Wright said.
Wright was able to return to work as an operations manager because to medicinal cannabis. "Without medicinal cannabis, I wouldn't be accomplishing what I'm doing today." It's changed my life."
Wright is one of many people who have turned their life around because to medicinal marijuana. To get started on your personal path, make an appointment with a state-licensed MMJ doctor now.
Cesar is a Marketing Associate at Veriheal, born in Mexico and reared in California. He can be found working on yet another collage project when he's not browsing social media for the next online drama.
Related Tags
kelowna drug dealers
kelowna drug bust